Hack4OpenGLAM is a co-creation event for working towards Open Access to cultural heritage.
The event brings together content communities, GLAM professionals, advocates of open cultural heritage, digital creators, and tools or platform developers – from newcomers to experts – to learn, work, and create with one another.
The 2021 event was organized as part of the CC Global Summit 20–24 September 2021, with a focus on knowledge equity: Highlighting knowledge of individuals, communities, and cultures who have been left out of the spotlight of history, decolonizing cultural historical collections, and acknowledging responsible ways of sharing information online openly.
Day 1
The first day was dedicated to learning and immersion into the topics.
| | | | |
| --- | --- | --- | --- |
| UTC start | UTC end | Panels | GLAM School |
| 09:00 | 10:30 | Revitalizing Endangered Languages | OpenRefine Tutorial |
| 11:00 | 12:30 | Vulnerable Archives | Using Transkribus – Background to the tool and demonstration |
| 13:00 | 14:30 | Wake-up Call for Heritage at Risk | Understanding Wikipedia and the Wikimedia movement |
| 15:00 | 17:30 | CC Program | |
| 18:00 | 19:30 | The Grand Pitching Session | |
| 20:00 | 21:30 | Decolonizing Metadata – Role of open internet platforms | |
Discussions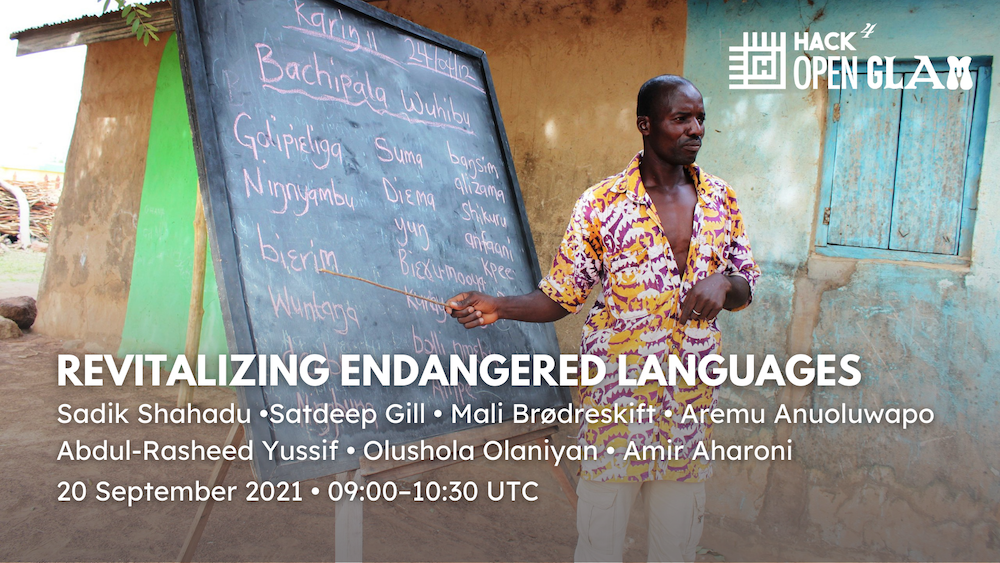 This panel brings together practitioners working with indigenous and endangered languages. It shows what tools and strategies are available for revitalizing the languages within the open ecosystem.
Chair: Sadik Shahadu, Dagbani Wikimedians User Group
Panelists: Satdeep Gill / Wikimedia Foundation, Mali Brødreskift / Wikimedia Norge, Aremu Anuoluwapo / The Yoruba names project, Abdul-Rasheed Yussif / Ghanaian Wikimedians create over 4000 audio recordings of Dagbani words, Olushola Olaniyan / Nigerian Language Oral History Documentation Project, Amir Aharoni / Translatewiki.net, WMF language committee
Dashboard: https://hack4openglam.okf.fi/workshops/revitalizing-endangered-language/
Session notes: http://okf.fi/h4og21-panel-languages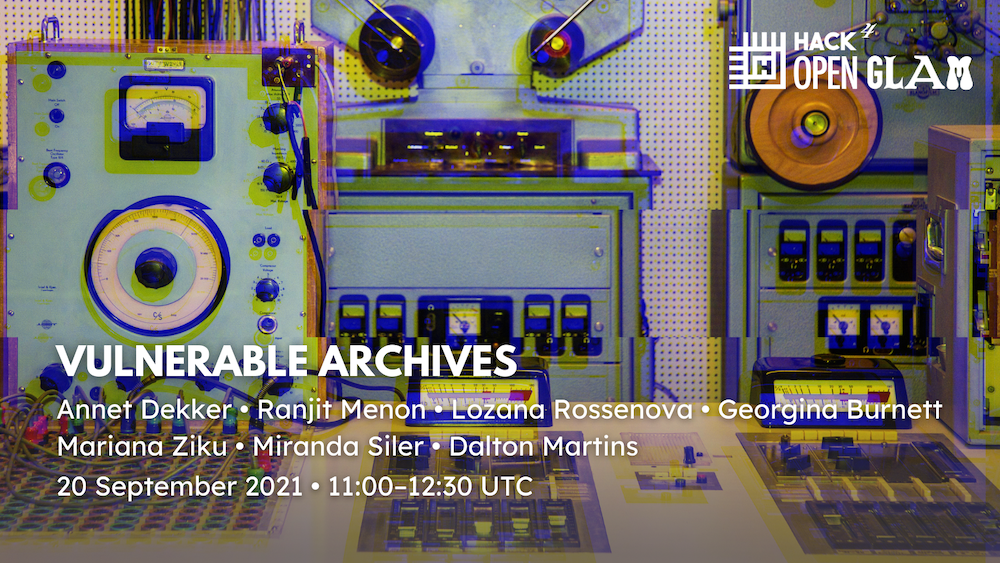 This panel looks at cultural heritage that falls outside existing systems of preservation and sharing and seeks new practices for broader inclusion of these bodies of knowledge.
Chair: Annet Dekker / University of Amsterdam
Panelists: Ranjit Menon, AvoinGLAM, Finland, Lozana Rossenova / lozanarossenova.com eg Rhizome ArtBase, DAAP, Georgina Burnett / Wikimedia Deutschland, Mariana Ziku / Biennale of Western Balkans, Miranda Siler / Pratt Institute, Dalton Martins / University of Brasília
Dashboard: https://hack4openglam.okf.fi/workshops/vulnerable-archives/
Session notes: http://okf.fi/h4og21-panel-archives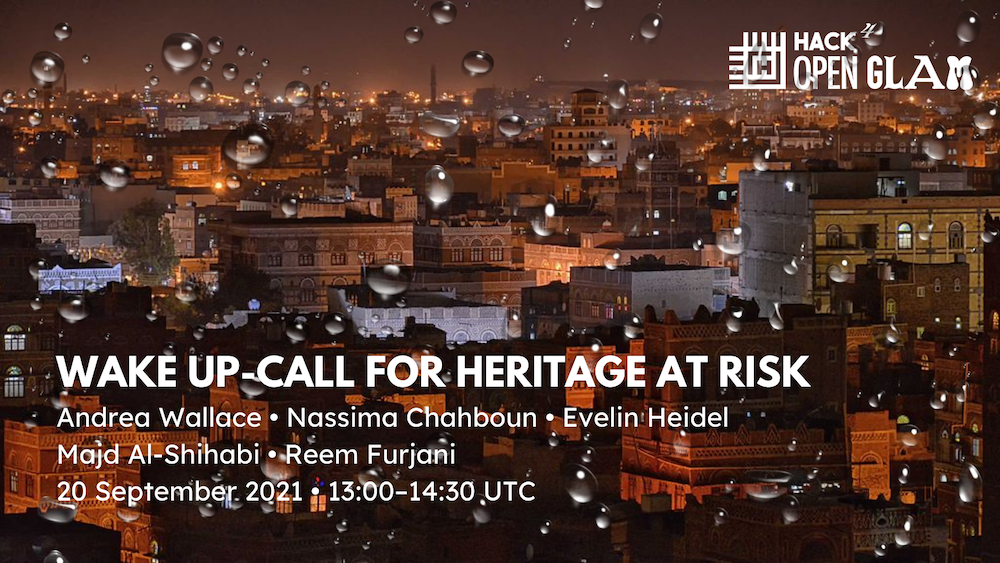 Cultural heritage buildings, monuments and sites are increasingly exposed to major problems and threats: armed conflicts and wars, natural disasters, climate change, pollution, mismanagement and uncontrolled activities. In this session, we explore the possibilities offered by open platforms and tools to monitor and assess these threats, and raise awareness among local communities.
Chair: Andrea Wallace / University of Exeter
Panelists: Nassima Chahboun / Wiki World Heritage User Group, Evelin Heidel, Majd Al-Shihabi / MASRAD.org, Reem Furjani / Scene, Mahmood Salman / Iraqi Wikimedians, Bachounda Mohammed / Wikidz.
Dashboard: https://hack4openglam.okf.fi/workshops/wake-up-call-for-heritage-at-ris/
Session notes: http://okf.fi/h4og21-panel-risk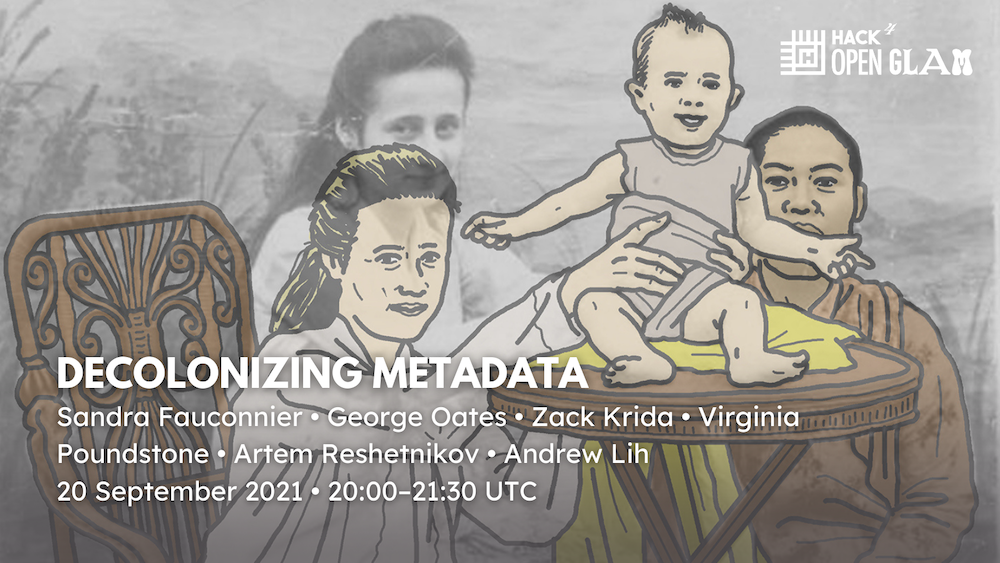 This panel imagines how open media platforms can help underrepresented communities correct data about them in the metadata that accompanies the media files, and why it matters.
Chair: Sandra Fauconnier / OpenRefine
Panelists: George Oates / Flickr Commons, Zack Krida / Openverse, Automattic, Virginia Poundstone / MHz Curationist, Artem Reshetnikov / Barcelona Supercomputing Center, Andrew Lih / Smithsonian Institution.
Dashboard: https://hack4openglam.okf.fi/workshops/decolonizing-metadata/
Session notes: http://okf.fi/h4og21-panel-metadata
The Pitching Session
Days 2–4
Working with the projects. Collaborating in the Mattermost platform. Participating in the Creative Commons Global Summit. View the Dashboard in its own tab.
Day 5, The Final Gala